Unmasked: The Final Years of Michael Jackson
Ian Halperin
Canada: $24.95
US: N/A
Pub. Date(Canada): July 14th, 2009
Number of pages: 287 (+39 color photos)
ISBN: 978-1-926745-12-1
Category: Biography, Pop Culture
SYNOPSIS
#1 NY Times bestselling author/filmmaker Ian Halperin exposes astonishing secrets about this mystifying figure who became the world's biggest entertainer!
In late December 2008, Ian Halperin told the world that Michael Jackson had only six months to live. His inv ...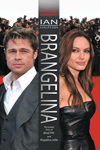 Brangelina: The Untold Story of Brad Pitt and Angelina Jolie
Ian Halperin
Canada: $25 CAD
US: $25 USD
Pub. Date(Canada): December 1, 2009
Number of pages: 271 (+12 color photos)
ISBN: 978-0-9812396-6-8
Category: Biography, Pop Culture
SYNOPSIS
Ian Halperin, New York Times bestselling author of Unmasked: The Final Years of Michael Jackson, explores the relationship of the world's most famous celebrity couple with exclusive revelations and personal anecdotes. This supercouple, unlike any other, consistently turns heads, rolls cam ...